17-19 gsm UV Protected UNI-Agri Fabrics for Agriculture and Crop Protection (Supplied in Rolls)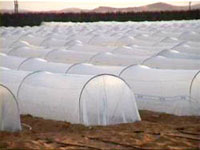 UNI-AGRI FABRICS are Nonwoven Fabrics made from polypropylene; an economical and environment friendly polymer; by spinning the material into fine filaments and bonding them by heat without use of any binders.
UNI-AGRI FABRIC is a modern textile which is neither a film or a conventional textile. It is very light; generally 17 to 19 grams per square metre and therefore very economical. The Fabric has specialized UV absorbers incorporated in it which ensures protection against the sunís rays.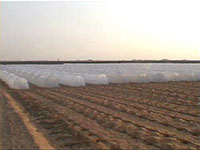 UNI-AGRI FABRICS basically create a microclimate providing uniform ventilation thereby encouraging early growth and development of the plant and/or crop with the valuable end result of both improvement in quality and yield. UNI-AGRI FABRIC protects the plant from cold and frost. Upto 5 degrees C some circulating moisture is trapped by it and in the event of a frost this film freezes providing the plant with natural frost protection. It minimizes the dangers caused by hail, heavy rains and storms.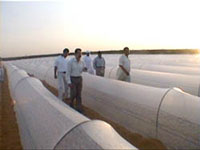 UNI-AGRI FABRICS are almost 80% transparent and with their uniform structure are uniformly water permeable. Plants covered with UNI-AGRI FABRIC can be fertilized afterwards if required.
(Photos shown are Actual UNI AGRIFABRIC used in farms in the UAE and of rural sales outlets for the rolls).

Applications
UNI-AGRI FABRICS can be used very successfully by small and large farmers alike including for kitchen gardening.
They are ideal when healthy seedlings and plants need protection from pests, insects and other environmental factors and where both quality and yield need to be improved.
Examples:
Lettuce, Carrots, Tomatoes, Radishes, Cauliflower, Potatoes, Spinach, Leeks, etc.
Herbs, Shrubs and Flowers can also be very effectively protected from outside influences.


Use of UNI-Agri Fabrics
Timing: This depends on the climate and is adaptable. Therefore earlier cropping becomes possible.
Laying: Both manual or mechanical laying is possible. Generally they are laid just like a film. Since they are very light they must be handled with extra care. When laying sufficient margin over and above the normal field width must be allowed for growth and securing. They must be neither too loose or tight especially in the direction in which the wind is or may blow. The Fabric must be secured at the edge: a spade full of earth at regular intervals will generally be adequate. The Fabric is reusable for the next season if not damaged. The tension must be adjusted suitably depending upon the crop.


Guidelines for removing the fabric
Carrots and Herbs
When plant is 5 to 10 cms high
Lettuce, Cabbage, Cauliflower
As soon as the heart is the right Size-appx 35 to 45 days after Planting

Note: Plants which flower such as cucumbers have to uncovered just before they flower so that they can be pollinated. They are then re-covered.

Product Specifications
| | |
| --- | --- |
| GSM | From 10 gsm onwards. Generally 17 gsm |
| Width | Upto 3.2 metres. Generally 3.0 metres |
| UV Protection | Fully UV Protected |
| Other Tests | As per Test Methods established by EDANA, ISO, DIN, ASTM, EUROPEAN and other international test specifications / methods For full details on test specifications please refer to FAQ section |
| Packing | Rolls of generally 500 Meters Length packed in Strong Plastic Film (Generally in Green or Blue Colour) |
Technical Specifications

Fabric Quality
Unit
Test Results
Test Method
Basic Weight
gsm
17
18
19
ERT 40.3-90 (DIN 53854)
Thickness
DTEX
3.0
3.0
3.0
ERT
Tensile Strength - MD
N/5 CM
28
30
32
ERT 20.2-89 (DIN 53857)
Tensile Strength - CD
N/5 CM
18
20
22
ERT 20.2-89 (DIN 53857)
Elongation - MD/CD
%
65 to 100
65 to 100
65 to 100
ERT 27.2-89 (DIN 53857)
Air Permeability
CU M/SQR M/MIN
350-375
350-375
350-375
ERT 140.1-81 (DIN 53857)
UV (With % dosage for high tropical exposure conditions)
-
Compliant
Compliant
Compliant
UV - A tester (CEN method - European Committee for standardization)

Typical Packing Specifications

Width
Metres
3
3
3
-
Length
Metres
500
500
500
-
Wrapping
Strong Opaque Plastic
-
-
-
-
Rolls per 40 ft. containers
NOS
350
(400 possible in a 40 ft-XL Container)
350
(400 possible in a 40 ft- XL Container)
350
(400 possible in a 40 ft- XL Container)
-

This is not a specification and the figures are typical values

Quality Assurance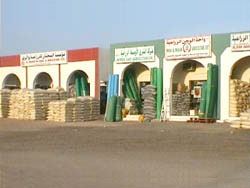 UV Accelerated Weathering Tester for testing UNI-AGRI FABRICS.
For UV Protection recommended dosage of the best quality additives are used for highest and most severe levels of radiation and temperatures prevalent even in severe tropical and Middle East climate conditions.
UNIMIN uses only prime quality virgin Polypropylene raw materials of the appropriate fiber grade from the world's most reputed producers and also master batches/UV additives of the highest quality.
Quality Assurance Certification in respect of the above is available upon request.