17gsm UV Protected UNI-Agri Fabrics for Banana Crop Protection
A protective cover for protection of banana bunch comprises a fibrous Nonwoven fabric exhibiting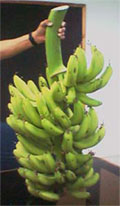 sufficient vapor permeability to alter or control the ripening of the banana so ensconced while retarding passage of dust and insects. The protective cover is positioned generally about associated agricultural products, with the cover being particularly suited for use on products prior to harvest. The Nonwoven is formed with protection-enhancing UV-protective agents. The Nonwoven fabric may be pigmented as desired.
The transmittance of light to an agricultural product is known to significantly affect the way that product develops and ripens. Banana that are mass grown in plantation exhibit pronounced variation in the rate of ripening depending upon whether the banana plant is located within immediate proximity to a shade Source, or are exposed to continuous daylight, such as along the periphery of the plantation.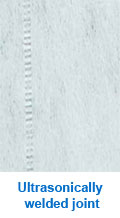 The fabric invention provides an improved form of protective cover for banana bunch which is particularly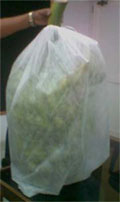 suite for use in controlling the in-situ ripening prior to harvest of the products, and which is configured for economical, and optionally, disposable use.
Today the use of Nonwovens has revolutionized the development of very high quality clean spotless bananas around the world and is an established product used by all leading banana growers all over the world, thousands of tones are consumed internationally.


Use of-Agri Fabrics for Banana Crop Protection
Unimin offers fabrics in roll form as well as UV stabilized ultrasonic welded sleeves ready for use on the plantation.
Banana sleeve is laid manually. Since they are very light they must be handled with care. The Fabric must be secured at the top thread .The Fabric is reusable for the next season if not damaged. The tension must be adjusted suitably depending upon the Banana crop.


Quality Assurance
UV Accelerated Weathering Tester for testing UNI-AGRI FABRICS. For UV Protection recommended dosage of the best quality additives are used for highest and most severe levels of radiation and temperatures prevalent even in severe tropical and Middle East climate conditions.
UNIMIN uses only prime quality virgin Polypropylene raw materials of the appropriate fiber grade from the world's most reputed producers and also master batches/UV additives of the highest quality.
Quality Assurance Certification is available upon request.


Product Specifications
| | |
| --- | --- |
| GSM | From 10 gsm onwards. Generally 17 gsm |
| UV Protection | Fully UV Protected |
| Other Tests | As per Test Methods established by EDANA, ISO, DIN, ASTM, EUROPEAN and other international test specifications / methods For full details on test specifications please refer to FAQ section |
| Popular Sizes | In tubular form (opened from both ends) -0.8M dia.x1.5M, 0.8M dia.x1.0M Fabric can be offered in roll form also. |
Technical Specifications

Fabric Quality
Unit
Test Results
Test Method
Basic Weight
GSM
17
ERT 40.3-90 (DIN 53854)
Thickness
DTEX
3.0
-
Tensile Strength - MD
N/5 CM
25
ERT 20.2-89 (DIN 53857)
Tensile Strength - CD
N/5 CM
17
ERT 20.2-89 (DIN 53857)
Elongation - MD/CD
%
55 to 100
ERT 27.2-89 (DIN 53857)
Air Permeability
M3/M2/Min
250-450
ERT 140.1-81 (DIN 53857)
UV Stability
Strength > 50% of Original Sample after expose to 200 hrs in UVB Light at Standard Florida Condition
UV - A tester
(CEN method - European Committee for standardization)
Color
-
White/as per requirement
-
Sleeve Sizes
-
0.8M dia.X1.5M
0.8M dia.X1.0M
or in roll form
-

Unimin complies with the strictest product and process controls according to the latest International standards.

Unimin reserves the right to update technical data according to process and technological developments.

The above tentative data sheet gives typical figures only and no implied warranty should be assumed.