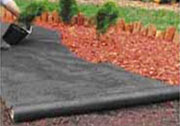 UNI-Antiweed fabrics- a full range of gsm, 50/70/100 being the most popular (customized gsm can also be offered) - UV stabilized - 2-3% wherever required are offered in PP Spun bond Nonwovens. These fabrics allows water, air and nutrients to pass through to roots of the plants, but blocks weeds. - Roll Length - standard 300 - 500 mtrs or customized roll lengths. ( of which 100 mtr is the most popular are offered in roll goods form or mini rolls, shrink wrapped with print label inserts to specific customers requirement are available.)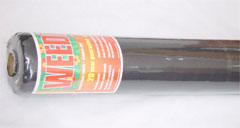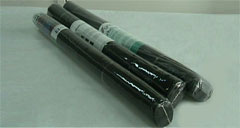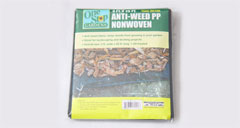 Fabric Quality
Unit
Test Results
Test Method
Basic Weight
gsm
50 ± 7%
70 ± 7%
100 ± 7%
ERT 40.3 -90 (DIN 53854)
Thickness
DTEX
2.5-4
2.5-4
2.5-4
------
Tensile Strength - MD
N/5 CM
85-100
120-140
160-180
ERT 20.2-89 (DIN 52857)
Tensile Strength - CD
N/5 CM
60-70
85-100
120-130
ERT 20.2-89 (DIN 52857)
Elongation - MD/CD
%
60-110
60-110
55-100
ERT 20.2-89 (DIN 52857)
Air Permeability
M3/M2/Min
150-140
150-140
50-250
ERT 140.1-99 (DIN 53857)
U.V. Stability
Strength > 50% of original sample after exposure
to 200 hrs. in UVB light at Standard
Florida Temp. condition.
UV A tester(CEN method -
European Committee for standardization)
Typical Specification:
Colour: Normally Black or as per customer requirement
Type: With/ without cores - Mini Rolls/ Folded packs as per customer requirement.
Outer Packing: Strong Transparent Plastic as per customer requirement.
Various forms in which UNI Antiweed Fabric can be supplied:
a) Standard size Roll Goods

3.0/1.6 Mtrs wide rolls or others depending upon no wastage of the 3.2 mtrs web widths.

b) Customized Size Rolls

Such as 50/100 Mtrs rolls on 2" or 3" cores with customized Brand printed Labels.

c) Mini Rolls

Normally without cores packed by tight shrink wrapping in 5/7.5/10/15/ 30 mtrs lengths with customized Brand printed Labels.

d) Folded packs

Duly folded and packed into poly bags of popular sizes with Brand Labels.
- UNI complies with the strictest product and process controls according to the latest International standards.
- UNI reserves the right to update technical data according to process and technology developments.
- The above data sheet gives typical figures only and no implied warranty should be assumed.